Heitor Villa-Lobos is one of the most prominent Brazilian composer of classical music. He also maintained a close connection to Brazilian folklore, which is reflected in his works. He has composed a suite with various choros and has also worked elsewhere on the fusion of Brazilian and classical European music.  
His twelve etudes are among the most famous pieces in the classical guitar repertoire. Especially the first two etudes feature a very rigid technical workout. Etude N#1 puts the focus on the right hand, featuring a permanent pattern almost completely throughout its entire length. I recommend it to intermediate to advanced fingerstyle players to stabilize and improve their technique.  
Watch classical guitar trailblazer Andres Segovia perform a dazzling version of the Etude N#1 :
If you feel that some of the chord grips are (understably) too hard, I recommend to practice the right hand pattern with only a few bars. Actually, the first bar is a perfectly fine technical exercise and will improve your right hand technique noticably when you add it to your permanent practice routine.
Notice the right hand fingering written above the notation in letters. The shortcuts are derived from the spanish language:
p stands for thumb (spanish: pulgar)
i = index finger (indice)
m = middle finger (medio)
a = ring finger (anular)
If you feel ready to add a chord progression to this right hand pattern you might want to start with bars 21-42. In this section, Villa-Lobos features a sequence of descending diminished chords. The left hand grip remains the same throughout these 22 bars – it is merely lowered a half-step (one fret) every two bars. This a perfect way to practice the right hand pattern with minimum effort in the left hand.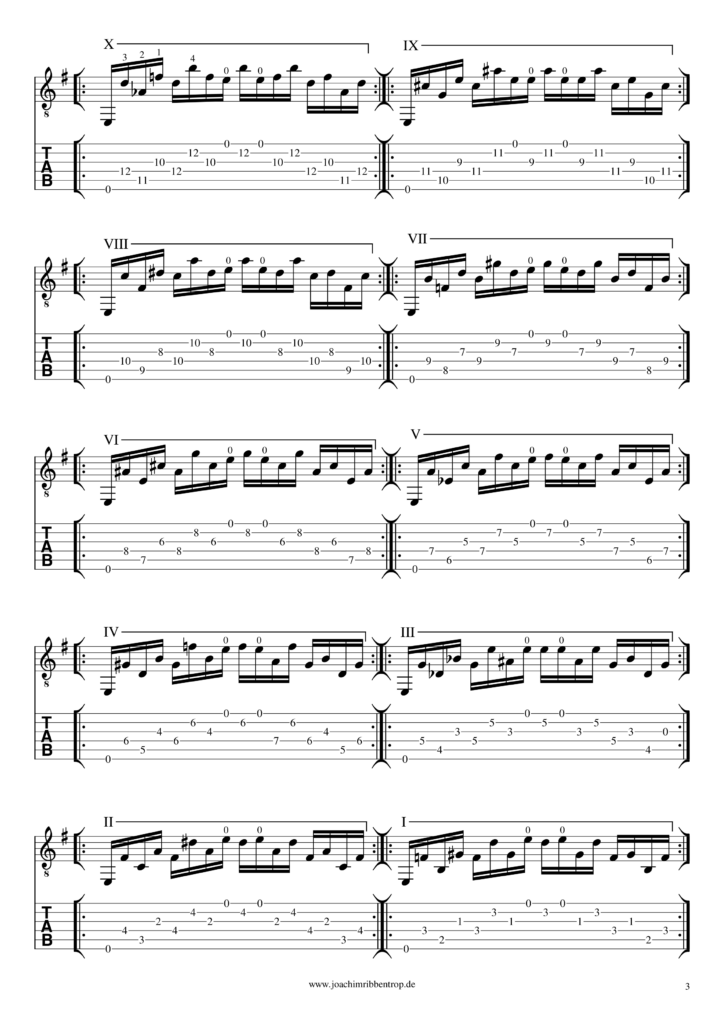 Here is a Soundslice to help you in analyzing Andres Segovias performance: