Choro - Brazilian Folklore
The choro can be described as the original Brazilian folk music. It is the music that ultimately gave rise to the styles that are so popular around the world today, such as samba and bossa nova. The choro, in turn, arose from the fusion of European influences such as polka and waltz and the traditions of the African-born population.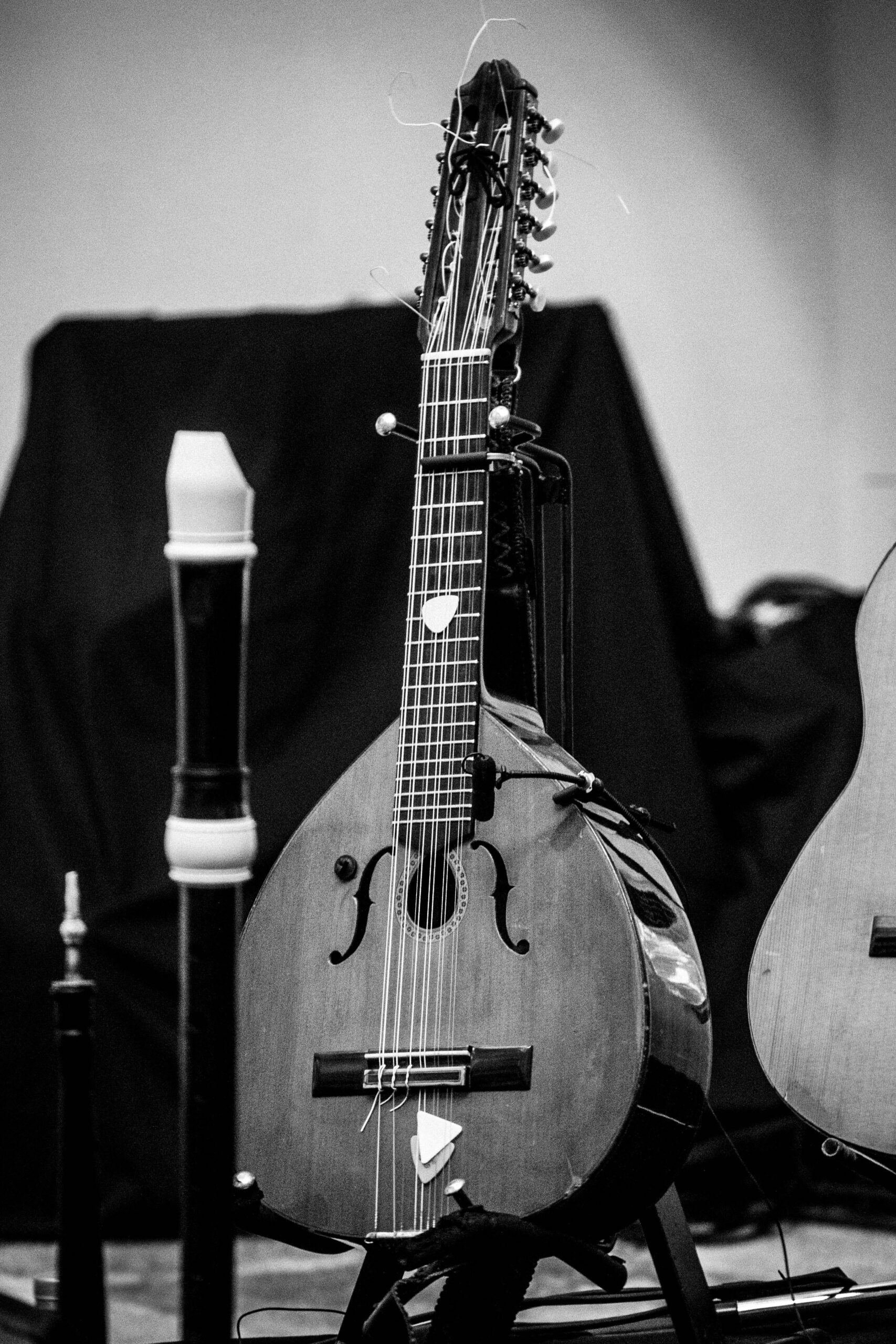 The instrumentation with various stringed instruments such as the guitar, the four-stringed cavaquinho and the mandolin (pictured) is characteristic. The melodies are often virtuoso runs of sixteenth notes, the rhythmic accompaniment already shows elements of samba, while the harmonic foundations are much simpler than in bossa nova.
One of the most important musicians and founders of the choro was Joaqium Calado, who lived in Rio de Janeiro at the end of the 19th century. He was followed by Ernesto Nazareth, among others, and especially Pixinguinha, whom Tom Jobim described as one of his greatest influences. The compositions by Joao Pernambuco and Heitor Villa-Lobos are particularly well known for the guitar.
One of the most famous choros is Tico Tico by Zequinha de Abreu:
STYLE CHARACTERISTICS OF THE CHORO
The melody of Tico Tico is a typical example of the choro style – a virtuosic, almost solo-like melodic line that drives the music without respite. The harmonies, on the other hand, can sit back and relax and only sporadically go beyond the basic functions of tonality.

The sixteenth note figures in the choro are mostly composed of combinations of 4 or 3 note groupings. In the melody of Tico Tico you will find some of the combinations shown here.

Using the usual spoken syllables, the rhythm patterns are first worked out without an instrument. Further practice takes place with the metronome – on individual notes or in scale sequences – and as  accompaniment patterns in combination with chords.
Listen to another example: the piece Odeon by the aforementioned pianist Ernesto Nazareth.
Similar rhythms are encountered again, this time in combination with chord fingerings. The last line of this example, in particular, is typical of a choro-style chord accompaniment.
The many inversions in the chord accompaniment are also striking. The harmonies themselves still only represent the basic functions and three other chords, the intermediate dominants E7, C7 and the borrowed chord D7.
The melodic, descending bass line (in line 1: from G to A) creates changes in the chord structure. These inversions are common in choro pieces and add a special touch to the simple chord progressions.
Due to their fast tempo and virtuoso melody runs, choro pieces are not necessarily predestined for entry into the world of Brazilian music. At the latest when you want to dive more deeply into the music of Samba and Bossa Nova, it is highly recommended to spend some time with this beautiful genre of music.
Here is a Playlist to give you a first impression: